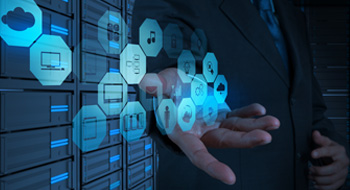 Let's face it—traditional design for data center infrastructure doesn't always meet today's needs. Analytics, transaction processing, high-volume web serving and other data-intensive and mission-critical workloads place new and increased demands on the IT infrastructure. At the same time, specialized IT skills are becoming increasingly challenging to find, and budgets for capital IT expenses continue to shrink.
Many organizations are turning to hyperconverged infrastructure (HCI) to address these challenges because it enables them to greatly simplify operations in the data center and realize capital expenditure (capex) reductions for many use cases. HCI systems combine compute, networking, storage and virtualization resources, all pre-integrated in a scale-out server. Rather than building and managing hardware and software components separately, a centralized management app handles everything.
Making the right infrastructure choices
Which management app and server architecture should you choose? You want a solution that delivers on the simplification and cost-savings expectations of hyperconvergence without being shortchanged when running today's data-intensive applications. In addition, your IT teams need the resources to build and manage powerful multicloud environments for private, public and distributed cloud applications and infrastructure. Consider the following five reasons why IBM Hyperconverged Systems may be the optimal choice for your organization.
1. Performance
Combining cloud software and IBM Power Systems servers offers an integrated, scalable, high-performance enterprise infrastructure solution for highly demanding transactional and cognitive analytics workloads. IBM Power Systems can deliver tremendous virtual machine density in cloud environments, particularly for open source database (OSDB) workloads such as EDB Postgres, MongoDB and traditional relational databases such as Db2.
2. Private cloud with public cloud capabilities
HCI was designed with the key goal to bring the ease and predictable cost of a public cloud-like experience to private data centers. With enterprise cloud software, it enables organizations to get the agility and flexibility benefits of the cloud while retaining on-premises control in meeting compliance, security and service-level agreement (SLA) expectations. When combined with IBM Cloud Private, a platform for developing and managing on-premises, containerized applications, IBM Hyperconverged Systems can thoroughly modernize the way you deploy and manage both your applications and the infrastructure that supports them.
3. No worries over skills shortage
Imagine increasing IT agility while reducing dependence on IT skills and expertise that can be scarce in today's business climate. IBM Hyperconverged Systems are designed to empower operations organizations to simplify deployment and provisioning of resources. Assembling systems components is not necessary, and the Prism Central console offers efficient management through a single-pane-of-glass approach. Cloud software also helps eliminate the need for specialized IT skills to build and operate cloud-driven infrastructure.
4. Transformation without rip and replace
Organizations adopting HCI don't need to rip and replace their existing IT infrastructure to transform their businesses for today's data-driven, AI era. IT professionals deploying HCI solutions can start small and scale incrementally to meet the specific demands of their organizations' application requirements. For example, IBM POWER–based servers are designed to be cloud ready for running big data analytics and high-performance, data-intensive workloads, and cloud software enables a single cluster to have unlimited nodes for running multiple workloads with high efficiency.
5. Scale-out topology
What happens when infrastructure needs to grow? With IBM Hyperconverged Systems, organizations can cluster multiple servers together in a scale-out topology, managed by the software stack. Internal physical storage resources from each node are pooled into one large, virtualized distributed file system. With single-click ease, systems can be added to dynamically increase compute or storage capacity.
Taking the right path to hyperconverged infrastructure
More organizations are adopting hyperconverged infrastructure every day. Find out how you can get started on the path to greater simplicity and performance, and gain a better idea of how hyperconverged systems can help pay dividends for your enterprise.
Learn more about our Infrastructure offerings powered by IBM